The History

When the 451 was released in 2007 it came with a display on the speedo that showed you exactly the same info
as the 450 did, in exactly the same layout. It's what we were used to. In 2008 the 451 was released to America
with a different display. Smart decided that there was far too much information for the common American to handle
so they removed the engine coolant temperature and the gear number whilst in auto. Couple this with smart's
decision to balls up the gearbox because the Americans don't have manual cars so they gave them some terrible
fake auto gearbox so the Americans wouldn't get confused by having to actually do anything to change gear.

This does nothing but prove that smart is either xenophobic or stupid in believing stereotypes.

The big kick in the arse (butt) for us Europeans is that smart decided to save money by just producing 1 type
of display so by March 2009 we were all forced into having this piece of shit dumbed down American display.

There were no changes to the speedo itself, just a different LCD. So wouldn't it be nice to have the information back?

Why Do I Need The Coolant Temperature Display?

If you own the turbo 451 you really should bring the car up to operating temperature before driving like a loony.
If you own the MHD then you should know that there are issues with auxiliary belts coming off or snapping.
This is because the belts are incredibly tight to be able to transfer the power from the starter motor to the engine.

This belt also drives the water pump that keeps your car from overheating. Without the gauge
telling you the temperature, the first thing you will know is the speedo making a nasty noise at
you and illuminating the water temperature symbol.

Most people wouldn't necessarily know what the noise was and may think it's ok to drive to a garage.

The Display Types

2007 Up To February 2009





We have the fuel level on the left, the gear number, trip distance, total distance, km/h and coolant temperture.
The trip distance can be toggled to show outside temperature, time or distance/time to the next service.
This display would also show the gear you are in when you are in Auto.

March 2009 onwards





Now we have the total miles, trip distance, time, km/h.
The trip distance can be toggled to show outside temperature or distance/time to the next service.
The clock is now a permanent fixture dispite having a clock on the dash top pods.

The engine coolant temperature gauge is missing and in auto it will just display an A.

Can I Just Fit The Whole Speedo?

No. The mileage/km is stored on the speedo as well as the ECU.
Swapping the entire speedo over will give you a - - - where the odometer reading would be.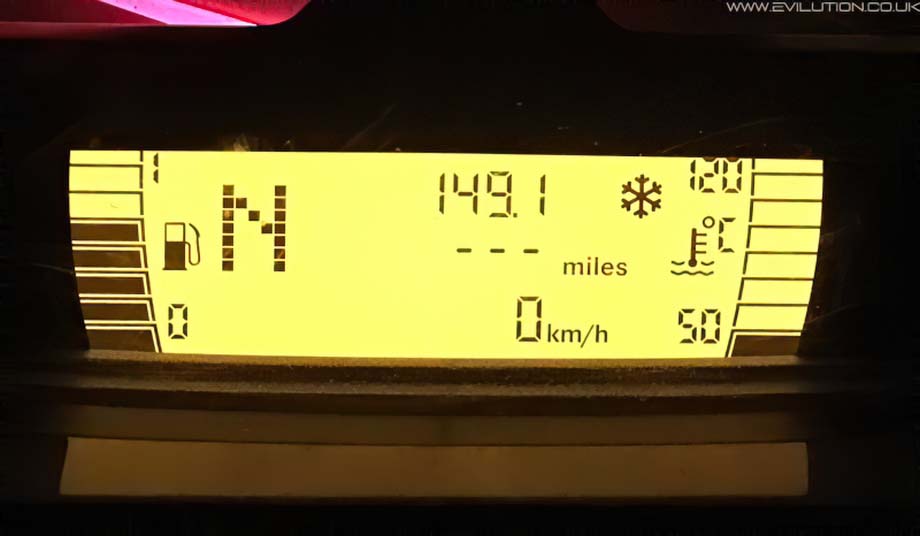 Reverting Back To The Old Display

So here it is, the dumbed down updated display that we are going to swap out.