Canadian CDI Layout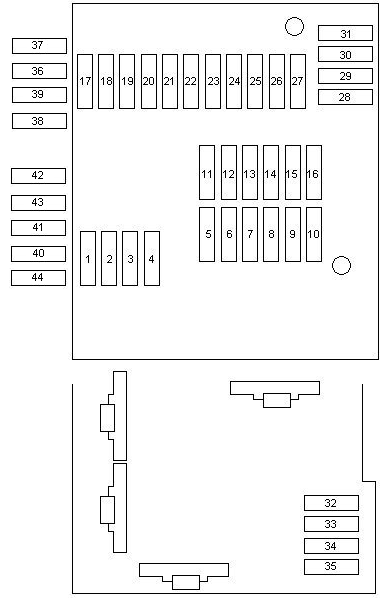 | | | | |
| --- | --- | --- | --- |
| No | | Amp. | Colour |
| 1 | Starter | 25 A | Neutral |
| 2 | Windscreen wipers, washer pump | 20 A | Yellow |
| 3 | Heater blower, seat heater | 20 A | Yellow |
| 4 | Power windows, l. & r. | 30 A | Green |
| 5 | Light switch, parking lights, low beam lights, high beam lights, headlight flashers, rear fog lamp | 7.5 A | Brown |
| 6 | Parking lights/tail lights, sidemarker, r. | 7.5 A | Brown |
| 7 | Parking lights/tail lights, sidemarker, l. | 7.5 A | Brown |
| 8 | Terminal 87/3 master relay (engine) | 20 A | Yellow |
| 9 | Terminal 87/2 master relay (engine) | 10 A | Red |
| 10 | Terminal 87/1 master relay (engine) | 15 A | Blue |
| 11 | Instrument cluster, safety cluster, OBD | 7.5 A | Brown |
| 12 | Radio CD, interior light | 15 A | Blue |
| 13 | Fog lamps | 15 A | Blue |
| 14 | esp | 25 A | Neutral |
| 15 | Charge air cooling fan, air conditioner, compressor | 15 A | Blue |
| 16 | Electric fuel pump | 10 A | Red |
| 17 | Rear window wiper | 15 A | Blue |
| 18 | Airbag triggering device, esp | 7.5 A | Brown |
| 19 | Mirror adjustment | 7.5 A | Brown |
| 20 | Radio, CD, instrument cluster, tachometer, OBD, backup lamp | 15 A | Blue |
| 21 | 12v Power socket | 15 A | Blue |
| 22 | Low beam light, right | 7.5 A | Brown |
| 23 | Low beam light, left | 7.5 A | Brown |
| 24 | High beam light, right | 7.5 A | Brown |
| 25 | High beam light, left & light in instrument cluster | 7.5 A | Brown |
| 26 | Brake light | 15 A | Blue |
| 27 | Engine control unit | 7.5 A | Brown |
| 28 | Rear window heater/engine fan | 30 A | Green |
| 29 | Soft top drive unit | 30 A | Green |
| 30 | Manual gearbox | 40 A | Orange |
| 31 | Horn, central locking, tailgate remote unlocking | 30 A | Green |
| 32 | Secondary_air pump (OR EPS) | 30 A | Green |
| 33 | Ignition switch | 50 A | Red |
| 34 | ESP pump | 50 A | Red |
| 35 | Power steering | 30 A | Green |
| 36 (R1) | Spare - switched live | 15 A | Blue |
| 37 (R2) | Spare - (W450, glass sliding roof) - switched live | 15 A | Blue |
| 38 (R3) | Spare - Electronic box (E-Box, Canada only) - switched live | 5 A | Light brown |
| 39 (R4) | Spare - switched live | _ | _ |
| 40 (R5) | Spare - permanent live | _ | _ |
| 41 (R6) | Spare - permanent live | _ | _ |
| 42 (R7) | Spare - permanent live | _ | _ |
| 43 (R8) | Spare - permanent live | _ | _ |
| 44 (R9) | Spare - (seat heater) - permanent live | 25 A | Neutral |



Please be aware that there are some discrepancies between the fuse layouts in their respective manuals.



The Canadian ForTwo does have a different layout in some respects, but it is possible
that some of these discrepancies have found their way into the Canadian manuals too.

If you find a blown fuse then ensure that you replace it with a fuse of the same rating, the above is merely a guide.