There's a joke you see every now and then when someone says they have a low oil level.
"get a longer dip stick"

How Long Is Your Dip Stick?

I sometimes get asked the length of specific engine dip sticks. Either they have lost or
broken their one or they are sold a replacement and don't believe it's the correct one.

This is how we are measuring the dip sticks. With a tape measure!





The zero is butted right up against the collar of the dip stick.




The oil maximum and oil minimum are then measured off in millimeters (because fuck inches).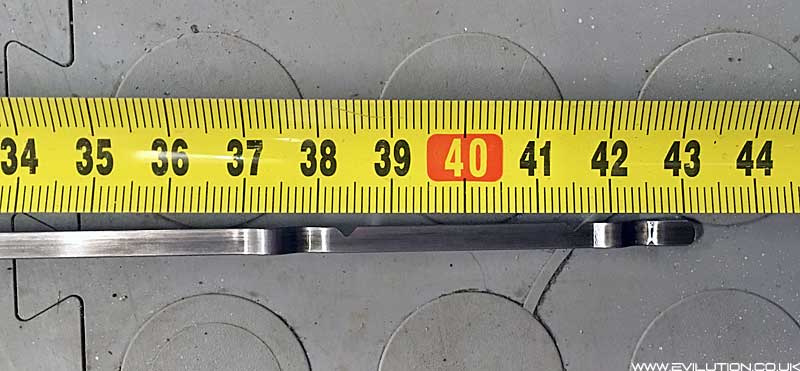 Table Of Dip Stick Lengths
| | | | |
| --- | --- | --- | --- |
| Car Model | Engine | Maximum | Minimum |
| | | | |
| 450 fortwo | 600cc petrol | 415mm | 440mm |
| 450 fortwo | 700cc petrol | | |
| 450 fortwo | 800cc diesel | 430mm | 462mm |
| 451 fortwo | 999cc petrol | 530mm | 557mm |
| 451 fortwo | 800cc diesel (54bhp) | 430mm | 462mm |
| 451 fortwo | 800cc diesel (45bhp) | 430mm | 462mm |
| 452 Roadster | 700cc petrol | 384mm | 415mm |
| 453 fortwo | 900cc petrol | | |
| 453 fortwo | 1000cc petrol | 488mm | 505mm |
| 453 forfour | 900cc petrol | | |
| 453 forfour | 1000cc petrol | 488mm | 505mm |
| 454 forfour | 1124cc petrol | | |
| 454 forfour | 1332cc petrol | | |
| 454 forfour | 1499cc petrol | 511mm | 531mm |
| 454 forfour | 1468cc Brabus | | |
| 454 forfour | 1493cc diesel | | |
Obviously I don't own a lot of these models so if you want to help, can be trusted to do it right and know
how to correctly use a tape measure, send me the same 3 photos that you see above for your dip stick.

Email me through the site, let me know you can help, I'll reply and you can send the photos.

Credits

Dan G - 450 diesel
Javier P - 451 petrol
Ben J - 450 fortwo 600cc
Nanak L - 454 1499cc