TL:DR

I know you lot have the attention span of a kid with ADHD. So I'll do a quick summary.

Don't assume smart are expensive.
Just contact your local parts department and ask first.
Don't assume that eBay parts are going to be cheaper than from smart.

Where Do I Get New Smart Spare Parts?

This is a question that gets asked with alarming regularity and I'm deeply concerned that common
sense doesn't seem to be all that common. Let me give you a clue. If you wanted a part for a Hyundai,
you'd go to a Hyundai dealer, if you wanted a part for a Dodge, you'd go to a Dodge dealer,
if you needed a part for a Kia, you'd go to a Kia dealer. Do I really need to go on here?

Smart is a subsiduary of Mercedes so any Mercedes dealer should be able to order you parts.

If you REALLY can't get to a smart/Merdedes dealer, look on eBay for a Mercedes dealer.
If you don't, you'll be ripped off or you'll buy poor quality parts.
Mercedes of Swansea
Mercedes of Bridgend
Mercedes of Newcastle
If they don't sell what you need, contact them by email or phone and ask them to order it.

But Smart Is Mercedes So It'll Be Expensive!

Wrong. If there is a part that is only made by smart, the cheapest place to buy it is from smart.

Sure, if you want low quality pattern copy parts, I'm sure they are cheap as shit on eBay. Remember why it's cheap.
For parts like sensors, they are made by Bosch etc. You can normally buy these cheaper online.

However, things that no companies make copied parts of like panels, they are cheaper at smart.

If a 3rd party company or person is selling OEM smart parts, they bought them from smart.
They aren't going to sell the parts for less than they bought them for are they!
They put on their profit and you pay more, just because you wrongly assumed that smart would be expensive.



Idiots be like...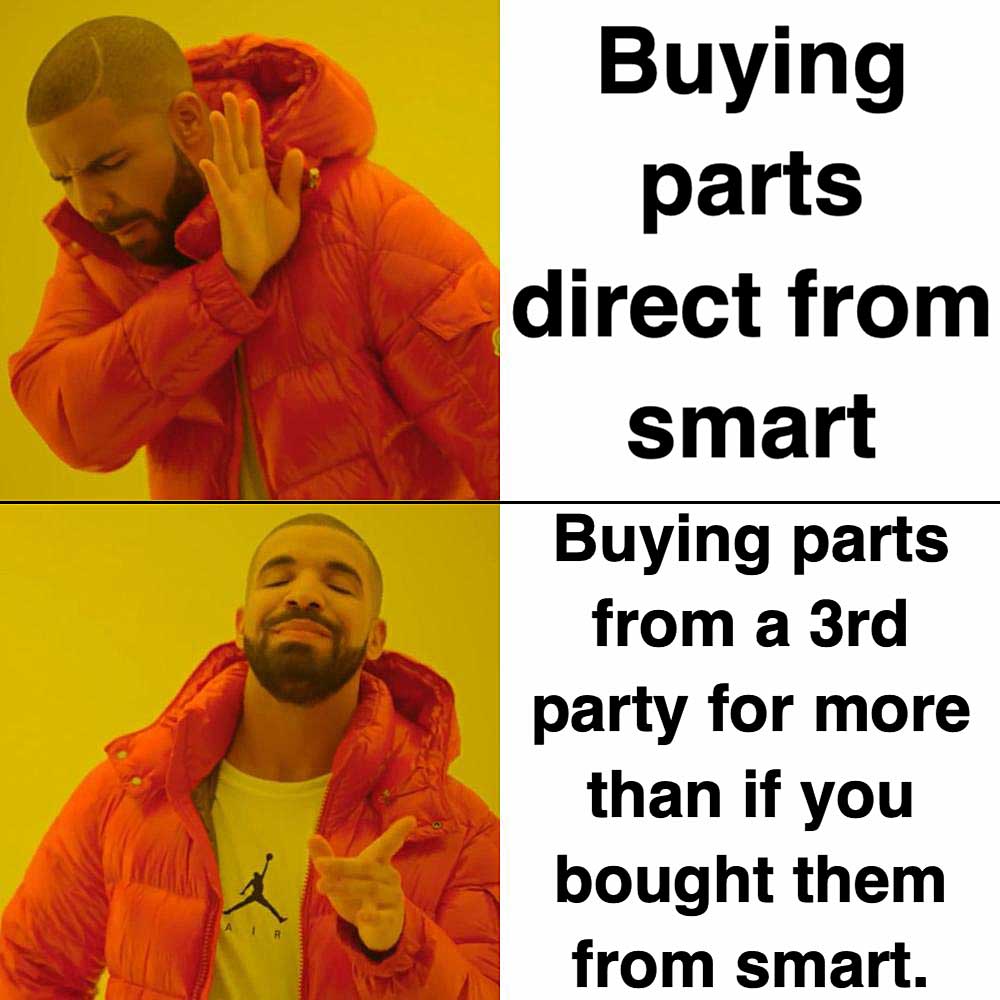 But Smart Doesn't Have A Presence In My Country

You were silly to buy a car when you have no dealer back up then.
Check out the Smart Parts Germany banner further down the page.

Smart In USA Won't Get 450 Parts For Me

That's what happens when you get grey market cars.
Depending on the part, try contacting a Canadian smart dealer as Canada had the 450.
You could also ask members of the Canadian smart forum for 2nd hand parts. CSC Forum.


If not, check out the Smart Parts Germany banner further down the page.

Cheaper On Ebay?

Over the years, smart's prices have gone up and down more than a whore's drawers.
The fact is, you are very unlikely to find a company selling new OEM parts cheaper than smart.
Don't think that because a new part is on Ebay, it is going to be cheaper than from smart. In many cases the
Ebayers are opportunists looking for a quick buck. I have seen new parts sell for 4 times the price on Ebay so be
aware and check before you bid. Even 2nd hand parts sell for more than new because the sellers rely on people
assuming that the dealer is going to be expensive. Just look at the parts on eBay being sold by Dewsbury Autos!

When I'm feeling down, I like to look at what they price things at, always makes me laugh.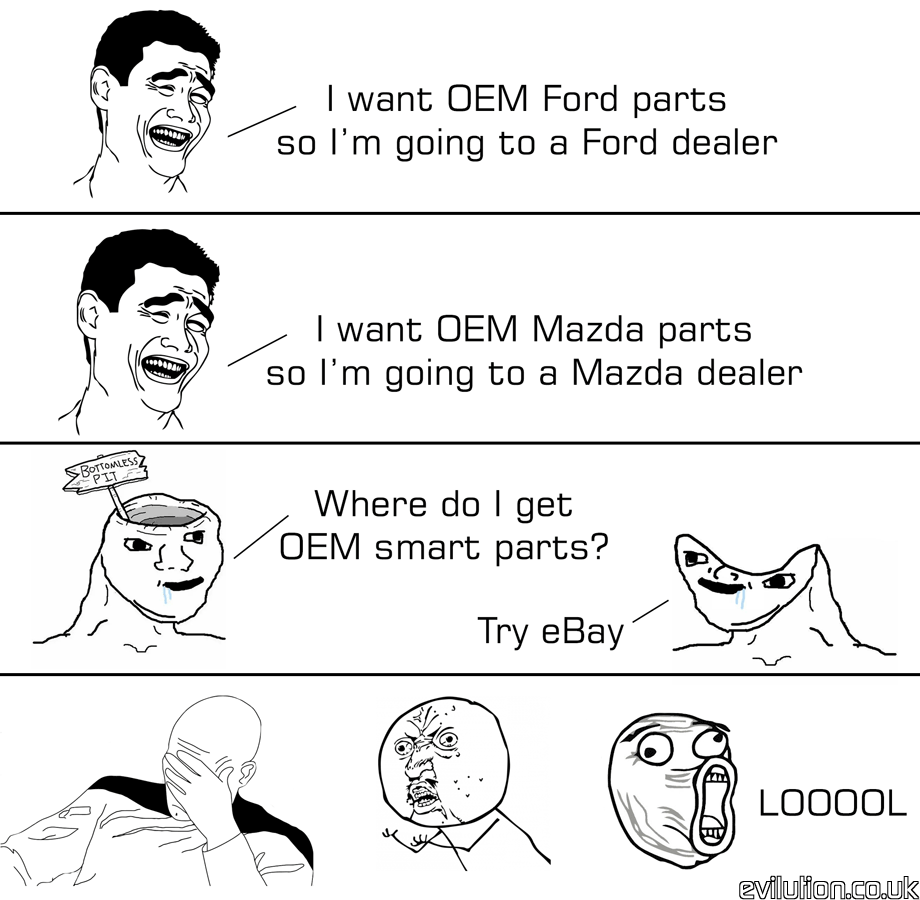 I Need Part Numbers To Take To Smart

No you don't,

please don't contact me asking for part numbers

, you don't need them.
If you explain something badly, I give you the wrong part number, smart orders you
the wrong part. Smart won't take the part back as it is you who ordered it incorrectly.

If you really want part number, find them yourself here.

Just go into a smart dealer and explain to them what you want.
If they order the wrong parts then it's their fault and they rectify it.


---

New Parts


The quickest way is to go to your nearest smart dealer however, if you are in the UK you
can buy directly from a Mercedes/smart dealer and have it sent to you by visiting this link.



Mercedes Benz Parts UK





Thanks to

Alastair M

for the link.


---

Smart Tune

I have never used them but I know people who have with no issues.

Do check the price with your local smart centre first.

This is a new company run by Bernd Rosenzweig who has worked for smart for 10
years before deciding to start his own smart parts business. He is happy to send
parts all over the world and can get almost anything you want with very little delay.


---
Second Hand Spares


I have bought things from friends, purchased a few parts from Ebay and scrounged some parts from forum members. What do you do when there is a specific part you need that no one seems to have?

You have 3 choices.



Breakers Yard



Contact as many breakers yards as you can and hope for the best.
Don't be surprised when they either don't have a smart or don't understand what you want.



eBay



There are always smarts being broken for parts on eBay so have a look on there.
However, pay attention and check prices with smart as many eBay sellers try to sell 2nd
hand parts for more than they cost new. Dewsbury Autos is a prime candidate for this.



A Local Smart Specialist



The third option is by far the best and has found me some unusual parts in double quick time.
Contact your local smart specialist garage. They deal with smarts all day every day so generally
have plenty of spares laying around or even cars to scrap for parts.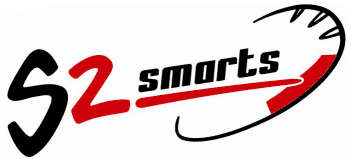 ---
Final Word Of Advice
Now the production of the old fortwo, forfour and Roadster has ended, parts will be very important.
If you have any spares you aren't going to use, please keep them moving, keep them in the loop.
Don't let them sit in a garage doing no good to anyone. Give it away to a needy smart owner or
sell it on Ebay to fund your next modification or next year's subscription.