Mod Description
The ECU (or MEG) controls all of the engine parameters ensuring that it is running as best as it possibly can.
Mod Details
Premium
No
Difficulty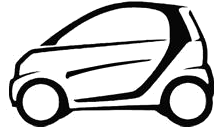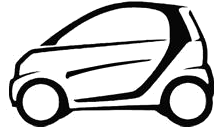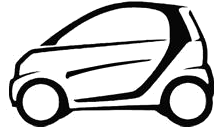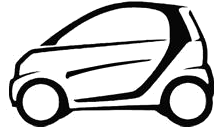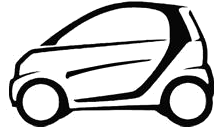 Mod ID
253
Credit
Evilution
For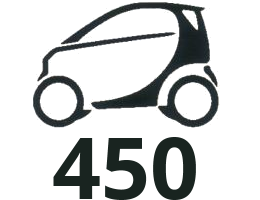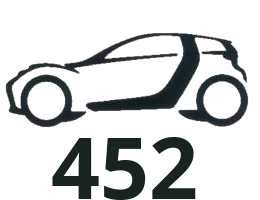 Link
https://www.evilution.co.uk/mod/450-ecu-pin-out.htm
Copy to Clipboard
The ECU is located on the side of the airbox, this can be seen to the left as you look into the engine bay.
This is the unit that stores the remap that you may have put on.It is worth noting that the engine map (remap) is stored on a rewritable chip, even if the battery is disconnected, you will not lose the remap.
This Page shows you the pin out table for the 600cc fortwo and 700cc fortwo.
700cc Fortwo ECU
| | | |
| --- | --- | --- |
| Pin Number | Wire Colour | Connection |
| 1 | Blue | Transmission motor |
| 2 | N/C | N/C |
| 3 | Green | Transmission motor |
| 4 | Yellow | Clutch motor |
| 5 | Yellow | Clutch motor |
| 6 | Yellow | Cylinder 3 coil |
| 7 | N/C | N/C |
| 8 | Yellow | Crankshaft RPM sensor |
| 9 | Yellow | Crankshaft RPM sensor |
| 10 | Black | Knock sensor |
| 11 | Red | Transmission RPM sensor |
| 12 | N/C | N/C |
| 13 | Yellow | Oil pressure switch |
| 14 | Yellow | Transmission motor |
| 15 | Yellow | Transmission motor |
| 16 | Yellow | Coolant temperature sensor |
| 17 | Yellow | Air intake temperature sensor |
| 18 | Yellow | O2 sensor, upstream |
| 19 | Yellow | Gear position sensor |
| 20 | Yellow | Throttle valve actuator |
| 21 | N/C | N/C |
| 22 | N/C | N/C |
| 23 | Yellow | Clutch motor |
| 24 | Yellow | Clutch motor |
| 25 | Green | Cylinder 3 coil |
| 26 | N/C | N/C |
| 27 | N/C | N/C |
| 28 | N/C | N/C |
| 29 | N/C | N/C |
| 30 | White | Transmission RPM sensor |
| 31 | Black | Screening cable |
| 32 | White | Knock sensor |
| 33 | Green | Transmission motor |
| 34 | N/C | N/C |
| 35 | N/C | N/C |
| 36 | Green | O2 sensor, downstream |
| 37 | Green | Throttle valve actuator |
| 38 | Green | Throttle valve actuator |
| 39 | Green | Intake manifold pressure sensor |
| 40 | N/C | N/C |
| 41 | N/C | N/C |
| 42 | N/C | N/C |
| 43 | Green | Clutch motor |
| 44 | White | Cylinder 2 coil |
| 45 | White | Cylinder 2 coil |
| 46 | N/C | N/C |
| 47 | White | Alternator |
| 48 | White | EGR valve |
| 49 | N/C | N/C |
| 50 | N/C | N/C |
| 51 | White | Transmission motor |
| 52 | White | Coolant temperature sensor |
| 53 | White | Air intake temperature sensor |
| 54 | White | O2 sensor, downstream |
| 55 | White | O2 sensor, upstream |
| 56 | White | Throttle valve actuator |
| 57 | White | Intake manifold pressure sensor |
| 58 | N/C | N/C |
| 59 | N/C | N/C |
| 60 | White | Gear position sensor |
| 61 | N/C | N/C |
| 62 | N/C | N/C |
| 63 | Blue | Cylinder 1 coil |
| 64 | Blue | Cylinder 1 coil |
| 65 | N/C | N/C |
| 66 | Blue | O2 sensor, downstream |
| 67 | Blue | O2 sensor, upstream |
| 68 | Blue | Wastegate valve |
| 69 | N/C | N/C |
| 70 | Blue | Injector 3 |
| 71 | Blue | Injector 2 |
| 72 | Blue | Injector 1 |
| 73 | Blue | Throttle valve actuator |
| 74 | Blue | Throttle valve actuator |
| 75 | Blue | Clutch motor |
| 76 | Blue | Intake manifold pressure sensor |
| 77 | N/C | N/C |
| 78 | N/C | N/C |
| 79 | Blue | Gear position sensor |
| 80 | N/C | N/C |
| 81 | N/C | N/C |
| 82 | Brown/Red | Steering assist, CAN high |
| 83 | White/Black | Steering assist, CAN low |
| 84 | Grey/Blue | Gear selector pin 5 |
| 85 | White/Grey | Gear selector pin 3 |
| 86 | N/C | N/C |
| 87 | Blue/Grey | Gear selector pin 8 |
| 88 | Brown/Green | SAM unit connection 2 pin 1 |
| 89 | Pink | Charcoal filter shut off |
| 90 | Blue/White | Accelerator pin 2 |
| 91 | Violet | Accelerator pin 1 |
| 92 | Violet/Blue | Stop lamp switch pin 1 |
| 93 | Blue/Green | Gear selector pin 9 |
| 94 | Yellow/White | Fuel level sensor |
| 95 | Blue/Red | Gear selector pin 4 |
| 96 | Brown | Gear selector pin 8 |
| 97 | Black/Pink | SAM unit connection 5 pin 11 |
| 98 | Green | Accelerator pin 4 |
| 99 | Black | Accelerator pin 5 |
| 100 | Yellow | Accelerator pin 6 |
| 101 | Grey | Fuel level sensor |
| 102 | Grey/Yellow | OBD pin 3 |
| 103 | Grey/Green | SAM unit connection 3 pin 2 |
| 104 | N/C | N/C |
| 105 | N/C | N/C |
| 106 | Red | AC Evap temperature sensor pin 2 |
| 107 | Brown/Yellow | AC Evap temperature sensor pin 1 |
| 108 | N/C | N/C |
| 109 | Yellow/Blue | Accelerator pin 3 |
| 110 | White | OBD pin 7 |
| 111 | Blue | SAM unit connection 2 pin 7 |
| 112 | N/C | N/C |
| 113 | N/C | N/C |
| 114 | Red/White | SAM unit connection 3 pin 12 |
| 115 | Pink/Blue | ECU pin 117 |
| 116 | Brown | Earth |
| 117 | Black/White | SAM unit connection 4 pin 2 |
| 118 | Brown | Earth |
| 119 | Black/Yellow | SAM unit connection 5 pin 12 |
| 120 | Brown | Earth |
| 121 | Brown | Earth |
Connectors And Pin Number Layout
Wiring Connector 1 Face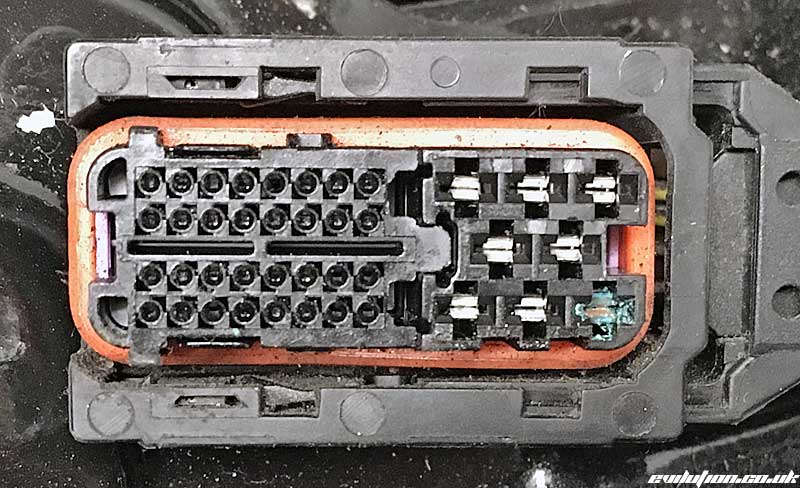 ECU Connector 1 Pins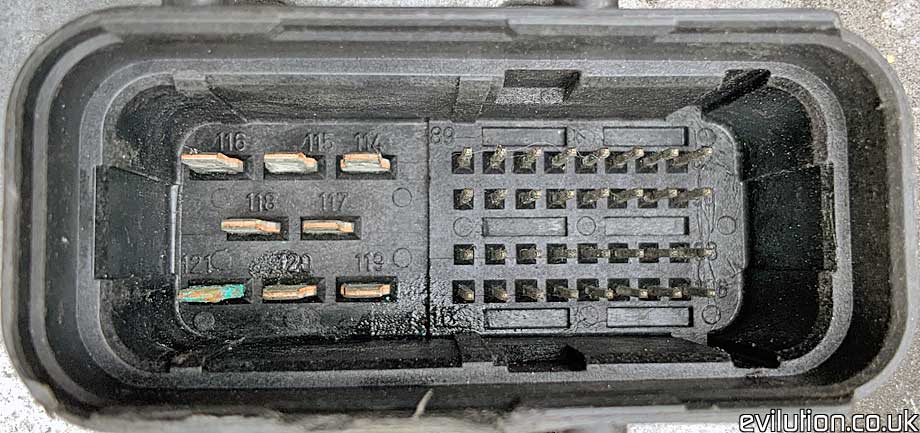 Wiring Connector 2 Face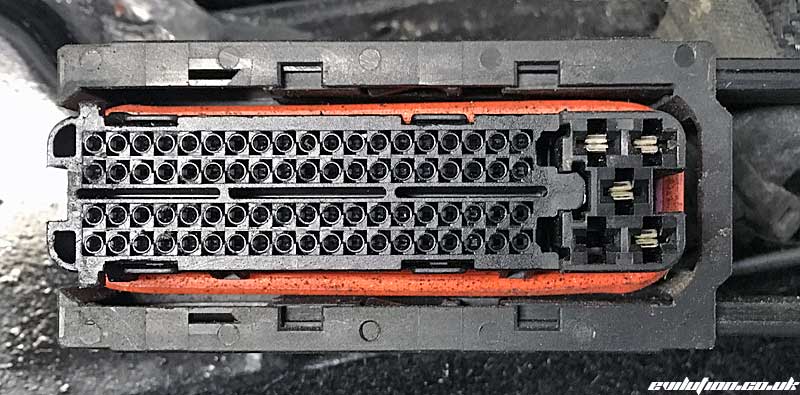 ECU Connector 2 Pins

---
600cc Fortwo ECU
| | | |
| --- | --- | --- |
| Pin Number | Wire Colour | Connection |
| 1 | Blue | Gear Change Motor Pin 6 |
| 2 | N/C | |
| 3 | Green | Gear Change Motor Pin 1 |
| 4 | Yellow | Clutch Actuator Motor Pin 3 |
| 5 | Yellow | Clutch Actuator Motor Pin 6 |
| 6 | Yellow | Coil Pack 3 Pin 4 |
| 7 | N/C | |
| 8 | Yellow | Crankshaft RPM Sensor |
| 9 | Yellow | Crankshaft RPM Sensor |
| 10 | Black | Knock Sensor |
| 11 | Red | Transmission RPM Sensor |
| 12 | N/C | |
| 13 | Yellow | Oil Pressure Switch |
| 14 | Yellow | Gear Change Motor Pin 3 |
| 15 | Yellow | Gear Change Motor Pin 5 |
| 16 | N/C | |
| 17 | Yellow | Coolant Temperature Sensor |
| 18 | Yellow | O2 Up Pin 4 |
| 19 | Yellow | Gear Position Sensor |
| 20 | Yellow | Throttle Body Pin 6 |
| 21 | N/C | |
| 22 | N/C | |
| 23 | Yellow | Clutch Actuator Motor Pin 4 |
| 24 | Yellow | Clutch Actuator Motor Pin 2 |
| 25 | Green | Coil Pack 3 Pin 3 |
| 26 | N/C | |
| 27 | N/C | |
| 28 | N/C | |
| 29 | N/C | |
| 30 | White | Transmission RPM Sensor |
| 31 | Black | Transmission RPM Sensor Shielding |
| 32 | White | Knock Sensor |
| 33 | Green | Gear Change Motor Pin 2 |
| 34 | N/C | |
| 35 | N/C | |
| 36 | Green | O2 Down Pin 4 |
| 37 | Green | Throttle Body Pin 5 |
| 38 | Green | Throttle Body Pin 3 |
| 39 | Green | MAP Sensor |
| 40 | N/C | |
| 41 | Green | G Sensor Pin 2 |
| 42 | Yellow | G Sensor Pin 1 |
| 43 | Green | Clutch Actuator Motor Pin 1 |
| 44 | White | Coil Pack 2 Pin 3 |
| 45 | White | Coil Pack 2 Pin 4 |
| 46 | N/C | |
| 47 | White | Alternator PH-IN |
| 48 | White | EGR Valve |
| 49 | N/C | |
| 50 | N/C | |
| 51 | White | Gear Change Motor Pin 4 |
| 52 | White | Coolant Temperature Sensor |
| 53 | N/C | |
| 54 | White | O2 Down Pin 3 |
| 55 | White | O2 Up Pin 3 |
| 56 | White | Throttle Body Pin 2 |
| 57 | White | MAP Sensor |
| 58 | N/C | |
| 59 | N/C | |
| 60 | White | Gear Position Sensor |
| 61 | N/C | |
| 62 | N/C | |
| 63 | Blue | Coil Pack 1 Pin 4 |
| 64 | Blue | Coil Pack 1 Pin 3 |
| 65 | N/C | |
| 66 | Blue | O2 Down Pin 2 |
| 67 | Blue | O2 Up Pin 2 |
| 68 | Blue | Wastegate Valve |
| 69 | N/C | |
| 70 | Blue | Injector 3 |
| 71 | Blue | Injector 2 |
| 72 | Blue | Injector 1 |
| 73 | Blue | Throttle Body Pin 4 |
| 74 | Blue | Throttle Body Pin 1 |
| 75 | Blue | Clutch Actuator Motor Pin 5 |
| 76 | Blue | MAP Sensor |
| 77 | N/C | |
| 78 | N/C | |
| 79 | Blue | Gear Position Sensor |
| 80 | Blue | G Sensor Pin 3 |
| 81 | N/C | |
| 82 | Brown/Red | ZEE Plug B Pin 31 (CAN High) |
| 83 | White/Black | ZEE Plug B Pin 35 (CAN low) |
| 84 | Grey/Blue | SE Drive Pin 5 |
| 85 | White/Grey | SE Drive Pin 3 |
| 86 | N/C | |
| 87 | Blue/Grey | SE Drive Pin 8 (gear down) |
| 88 | | |
| 89 | Yellow/White | Charcoal Filter |
| 90 | Blue/White | Accelerator Pedal Pin 2 |
| 91 | Violet | Accelerator Pedal Pin 1 |
| 92 | Violet/Blue | Brake Light Switch |
| 93 | Blue/Green | SE Drive Pin 9 |
| 94 | Yellow/White | Fuel Level Sensor |
| 95 | Blue/Red | SE Drive Pin 4 (gear up) |
| 96 | Brown | SE Drive Pin 10 |
| 97 | Black/Pink | Rear Fuse & Relay Plug 1 Pin 1 |
| 98 | Green | Accelerator Pedal Pin 4 |
| 99 | Grey/Green | Accelerator Pedal Pin 5 |
| 100 | Grey/Yellow | Accelerator Pedal Pin 6 |
| 101 | Grey | Fuel Level Sensor |
| 102 | Grey/Yellow | OBD Port |
| 103 | Grey/Green | Zee Fuse 26 |
| 104 | N/C | |
| 105 | White Yellow | Rear Fuse & Relay Plug 2 Pin 2 |
| 106 | Pink | AC Evap temperature sensor pin 2 |
| 107 | Brown/Yellow | AC Evap temperature sensor pin 1 |
| 108 | N/C | |
| 109 | Yellow/Blue | Accelerator Pedal Pin 3 |
| 110 | White | OBD Port (K Line) |
| 111 | Blue | Rear Fuse & Relay Plug 1 Pin 5 |
| 112 | Yellow | Rear Fuse & Relay Plug 2 Pin 5 |
| 113 | Green/Blue | Rear Fuse & Relay Plug 2 Pin 3 |
| 114 | Red/White | Zee Fuse 20 |
| 115 | Pink/Blue | Rear Fuse & Relay Plug 1 Pin 7 |
| 116 | Brown | Earth |
| 117 | Black/White | Rear Fuse & Relay Plug 1 Pin 6 |
| 118 | Brown | Earth |
| 119 | Black/Yellow | Rear Fuse & Relay Plug 2 Pin 8 |
| 120 | Brown | Earth |
| 121 | Brown | Earth |
Connectors And Pin Number Layout
Wiring Connector 1 Face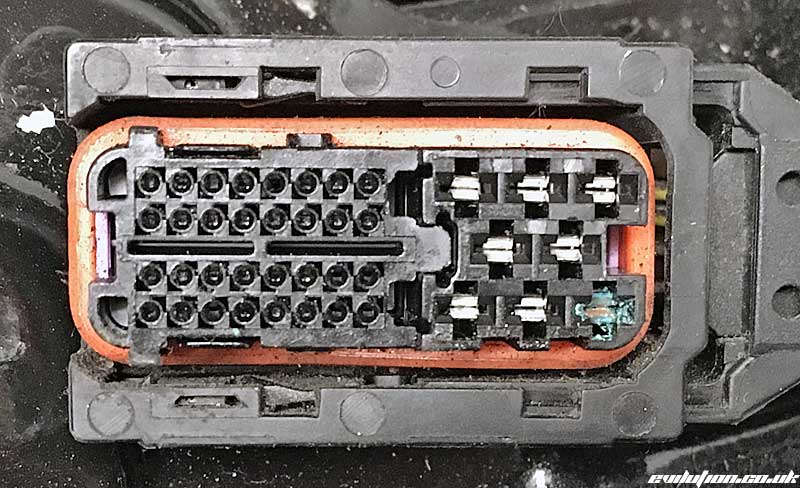 ECU Connector 1 Pins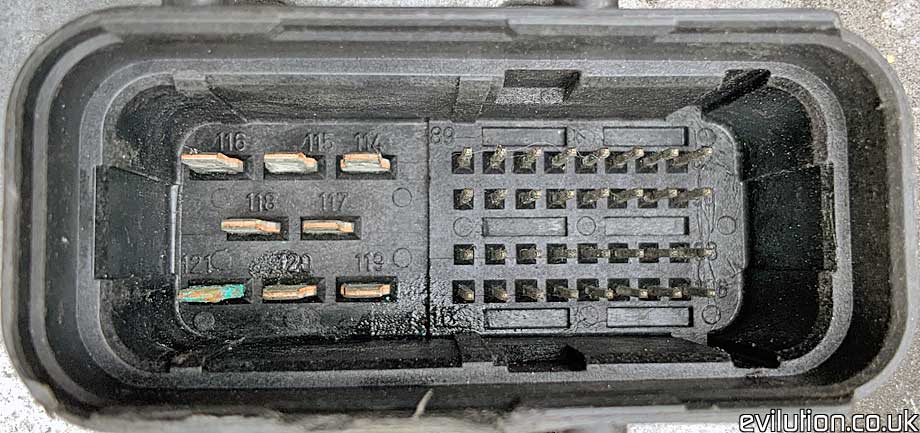 Wiring Connector 2 Face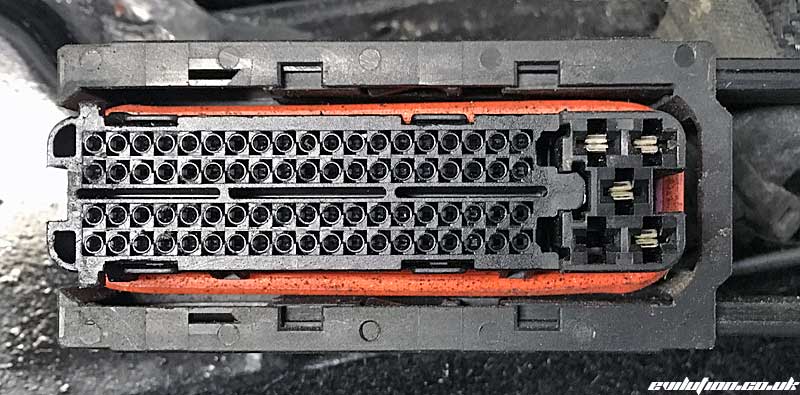 ECU Connector 2 Pins