Mod Details
Premium
Yes
Difficulty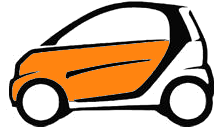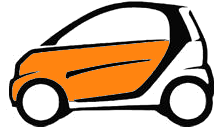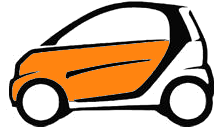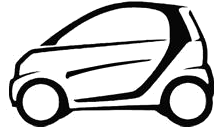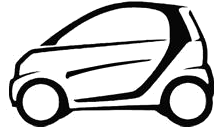 Mod ID
1706
Credit
evilution
For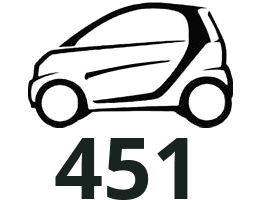 Link
https://www.evilution.co.uk/mod/451-xenon-hid-headlights.htm
Copy to Clipboard
OK dumb-arse, pay attention. It is not road legal in any country to put a xenon bulb (or LED bulb) in a standard headlight designed to use a halogen bulb. However, in most countries, it's a bit of a grey area if you replace the projector with one actually designed to use a xenon bulb.
You are supposed to have self levellers and headlight washers if your car has HID headlights but there are exceptions stating that if there's not enough room for these things, you don't have to have them. Really this is meant for the manufacturer but if you do the conversion properly, there's no reason you should get in any trouble. For the yearly Government check (MOT etc) the inspectors in most countries aren't allowed to disassemble anything on the car to prove that it's a failure so they can only fail you on the light pattern.
It's worth noting however that insurance companies are much more likely to look into your car if you have an accident. So weigh up the pros and cons before continuing.
451 Xenon Projectors
Here is the 451 headlight once it has been removed and disassembled. The projector is the middle part.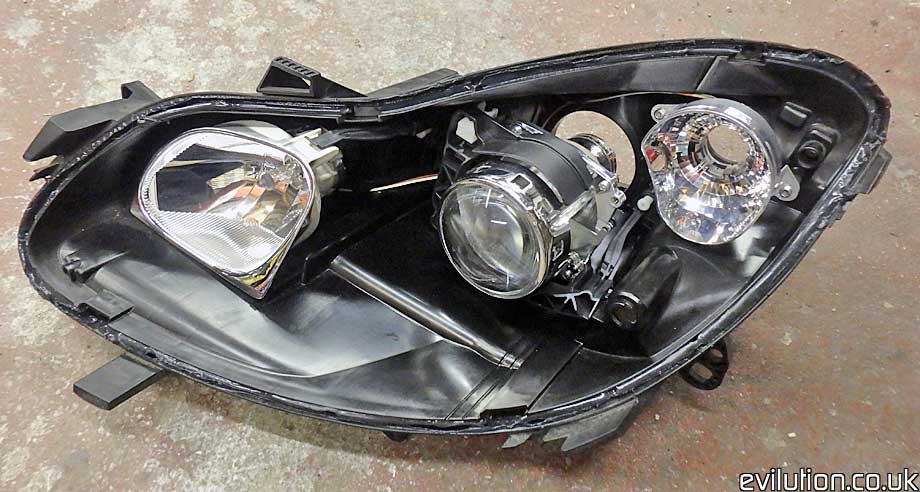 I'd looked about to see if there were any "close enough" xenon projectors that could be made to fit. The original 451 projector is made by Bosch so I started there and was pleased when I found an exact match but for xenon bulbs. The problem was that these replacements are bi-xenon which means that have a solenoid that controls a flap. The flap opens and closes to give you either low beam or high beam (bi-xenon). The issue is that the 451 headlight isn't big enough to house the solenoid so it has to be removed which makes it a standard dipped beam headlight projector.
Removing The Solenoid
This is the replacement projector. The type of projector is listed at the bottom of the page and also which type you don't want to get.
Remove the Torx screws from the lens holder…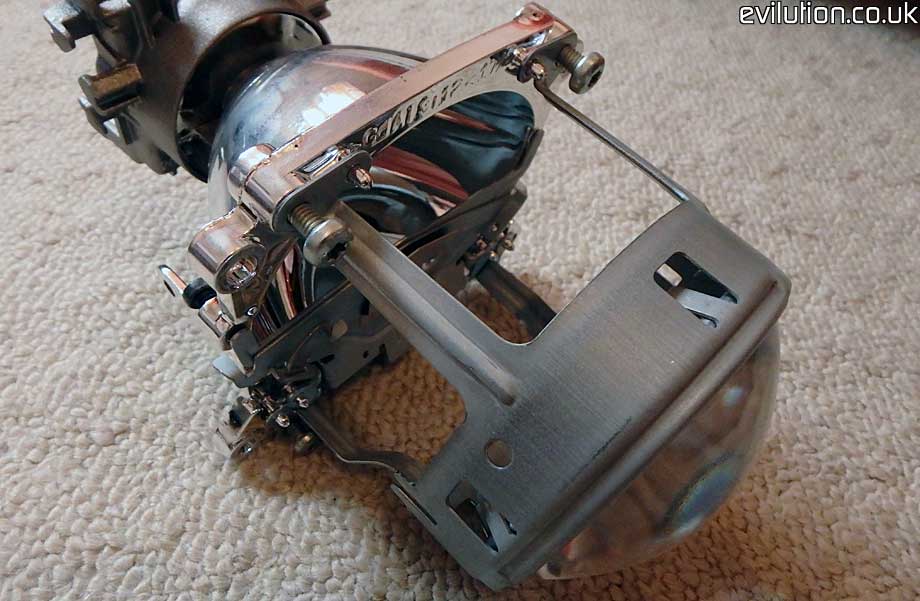 …and pull the lens away.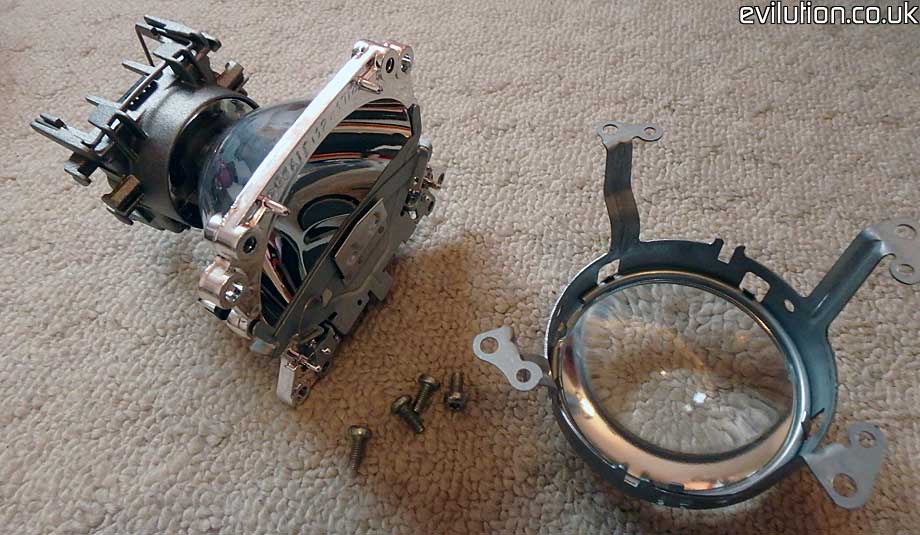 The solenoid and flap assembly can be slid forward to remove it.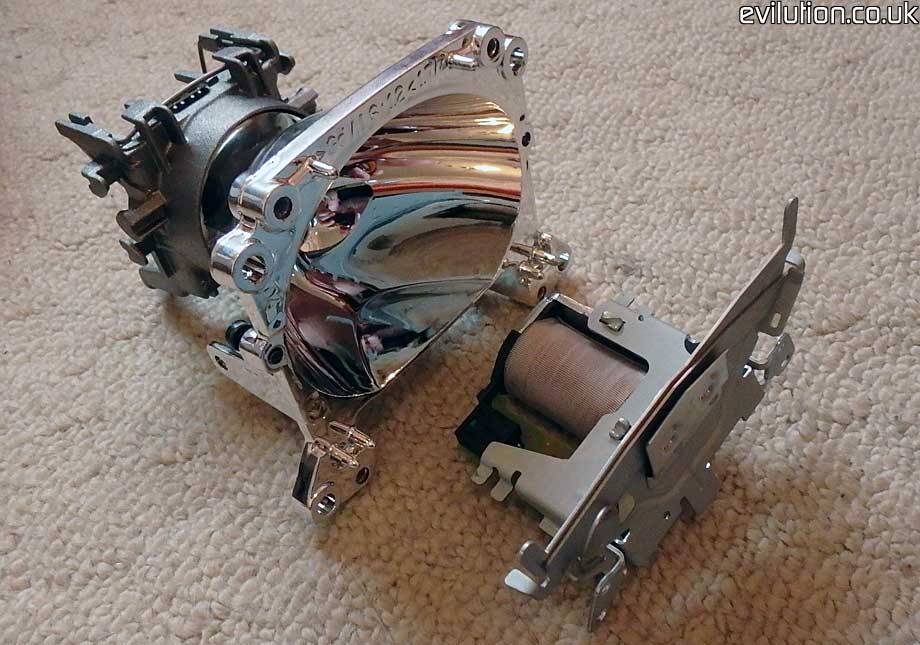 The solenoid is staked in position so…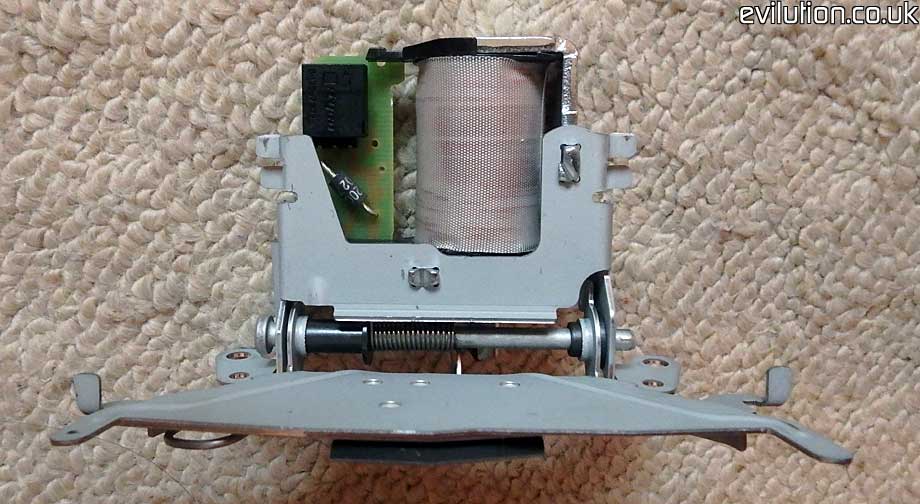 …you need to grind off the 2 tabs…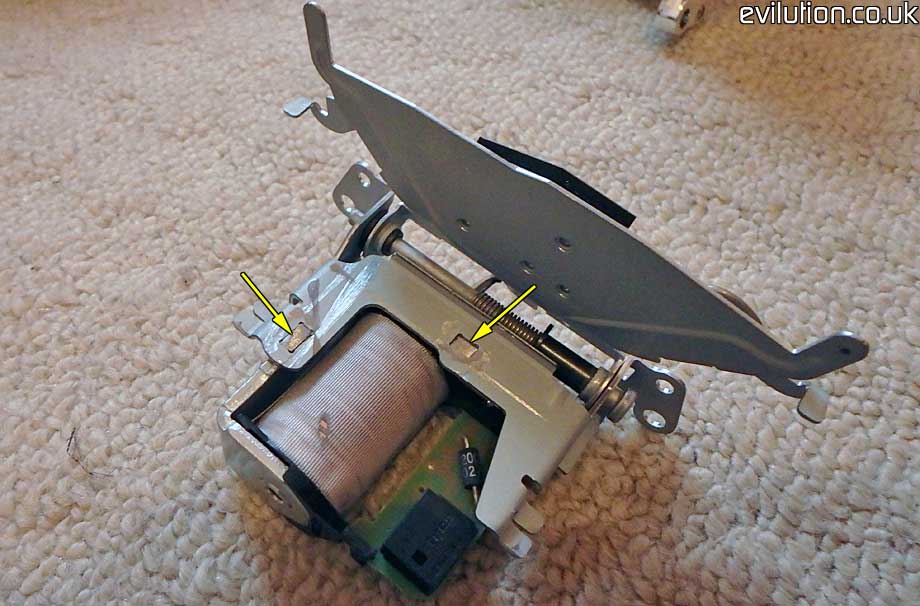 …so the solenoid can be removed from the flap assembly.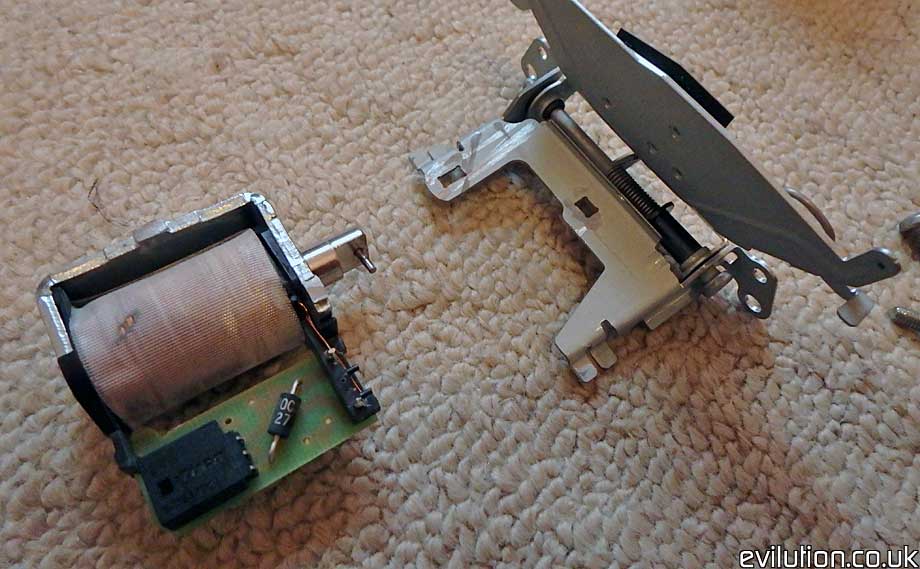 Put the projector back together again.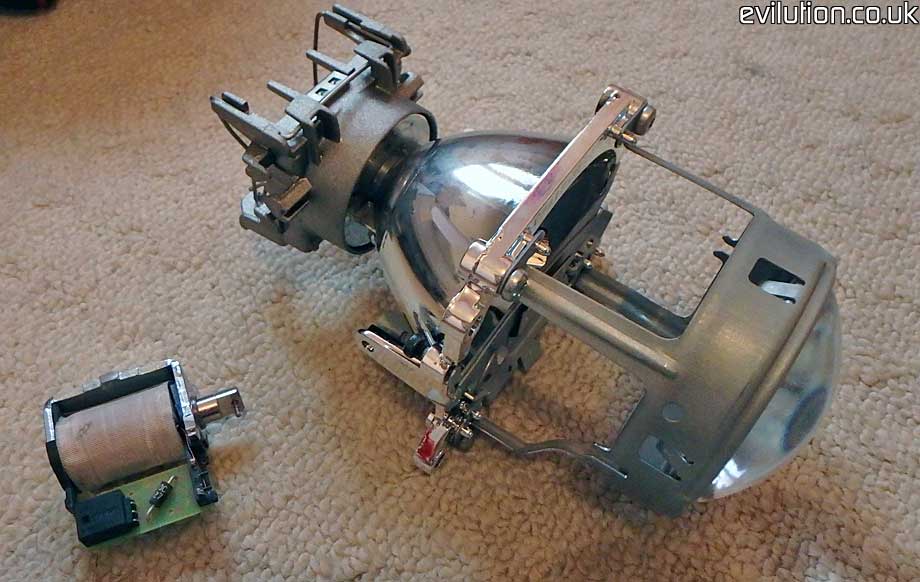 There are 2 types of bulb holder, if you have the large square frames, you'll have to remove the screw and remove them. This type of bulb holder is too large for the 451 headlight.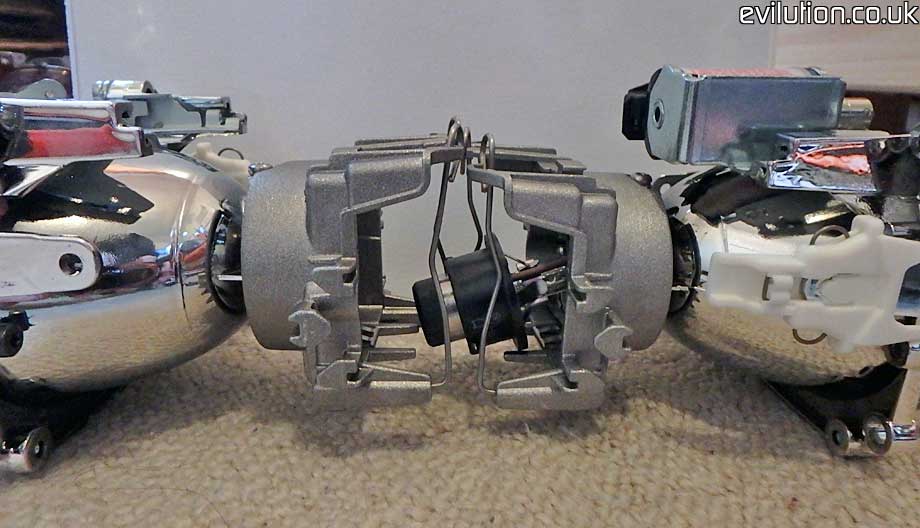 Removing the cage leaves a smaller bulb holder base but…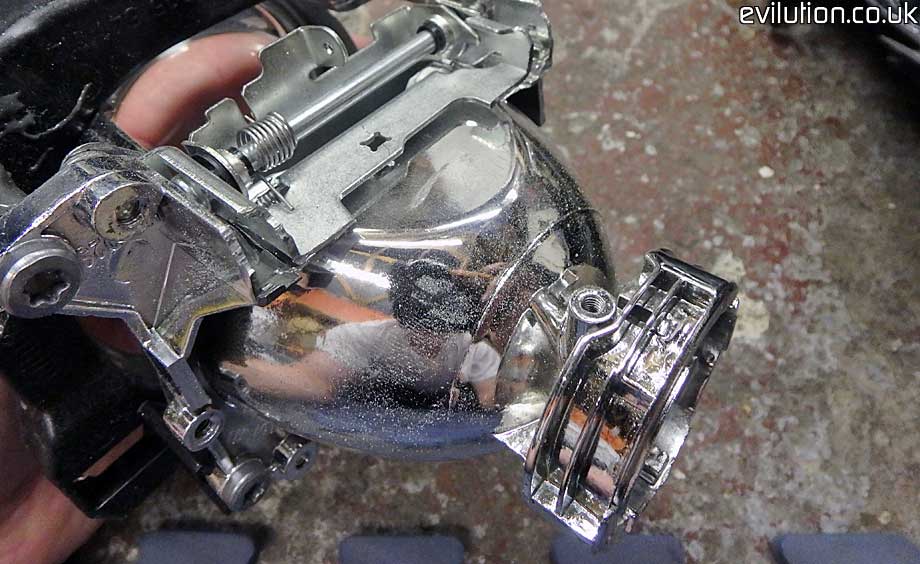 …you will have to get a pair of bulb holder rings to keep the xenon bulbs in place.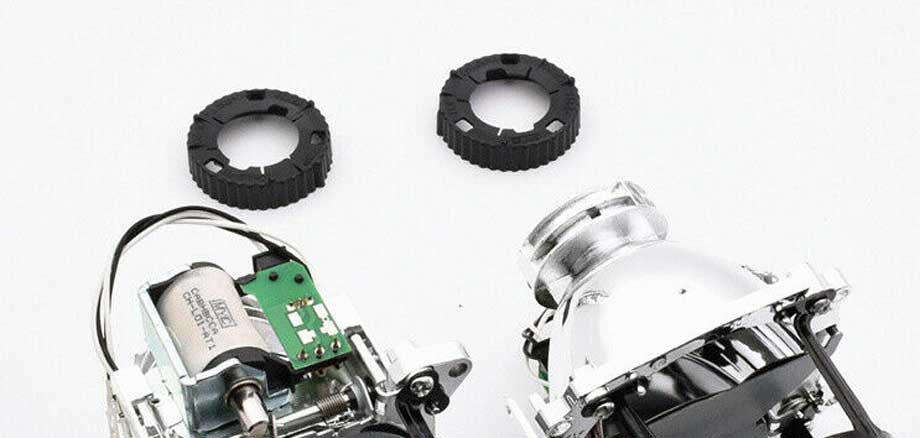 These xenon projectors are a direct replacement now for the original 451 projectors.
What Projectors Are They?
Look online for BMW E46 xenon projectors. Make sure they look the same as mine because there are 2 manufacturers for the BMW E46 headlights. Bosch are the ones you do want. ZKW make the other type and these are the ones you definitely don't want. Not only do they not fit, they have a terrible reputation for melting due to them having a plastic reflector.
They aren't only for the BMW E46 but that's the search I use to be sure.Apparently they are the same in the BMW E60 and X3, Mercedes C200, C220 and CL500, Volvo S40 and C70 amongst others.
Thankfully, there are plenty of good copies so you can get brand new replacements. Just look around on eBay. Added bonus is that the copies come with the correct bulb holder rings instead of the metal frames that mine did.
What Bulbs Do They Use?
D2S Xenon bulbs. You will also need all the associated electronics that go with them like the ballast and ignitor. These days, they are both in 1 unit.
What Bulb Holder Rings Do I Need?
Again, look on eBay (because Amazon search is terrible) for D2S bulb holder or D2S bulb ring. Make sure they look correct.