OTV Project Car - Fortwo Pure - Homey - sold on

engine upgrades

Viper Induction Kit
Brabus Roadster Turbo
Brabus Roadster CAM
74kw TIK Pipe
4.0 Fuel Pressure Regulator
Janspeed Stealth Exhaust
Janspeed Intercooler Pipes
Custom Reddot Remap
Evilution earth strap

interior and exterior upgrades

Leather Seats
Leather Dash and Door cards
Leather Paddleshift steering wheel
16' wheels all round
Reddot Brakes and Rotor Discs
Bassbins and sound speaker upgrades
Blue LEDs
S-Mann Sideskirts
Bilstein Streetline Kit (muchas help from t1ny)
HID Lights

Le'crap additions

CD player (smart)
Leatherette parcel shelf
Higher Rearview mirror
Blindspot mirror
Brabus Handbrake
Evilution MP3 lead
Rolling road results showed 117bhp, up from 50bhp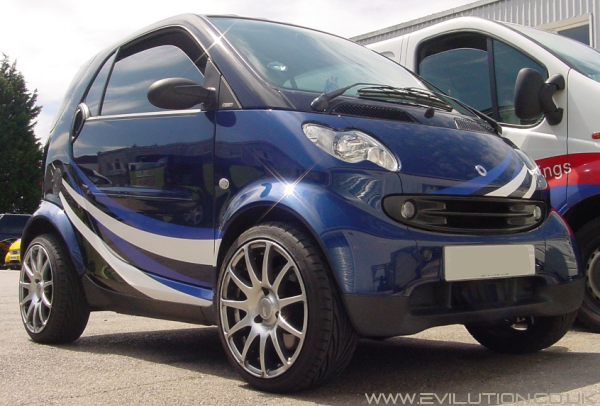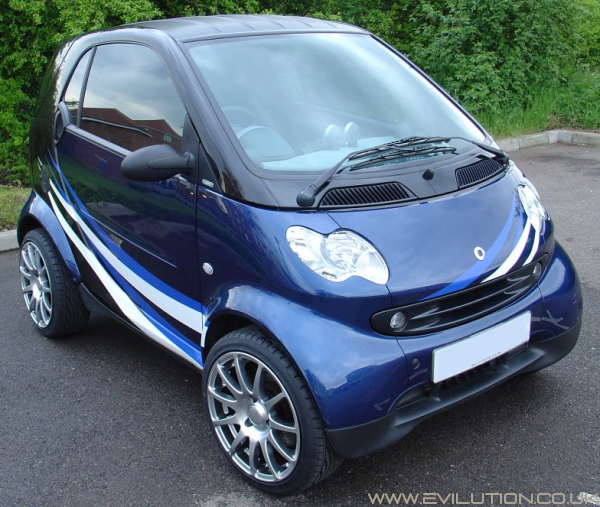 This car is no longer with OTV / Team Evilution, it's been sold onto a new happy smart owner called captainorca, he's got plenty of plans to take the car forward!

OTV Project Car - Roadster Coupe

Not wanting to go buy a Brabus Roadster and then realising that there is
limited modding availability, I decided to take the same line as I did with the fortwo
- get the basic vehicle and mod the living hell out of it.

I was looking at a Roadsters for a while and when funds allowed I picked up the
car from from an ex TR.n member who kindly delivered it to joyous Essex for me.

When I collected it, it had the following mods already completed on it.

Standard 84 Black Black Roadie Coupe

Paddles / AC / Pods
Momo Corse Alloys
Bilstein Streetline Kit
Janspeed center exhaust
Janspeed Intercooler Pipes
Custom Reddot remap
Brabus Sideskirts

Since then.....

LSD doors
V6 steering wheel
Brabus TIK upgrade
Brabus Roadie Turbo
Trip Computer
Hardtop
Blue Leds / CCFLs
Changed Lights
Colour coded panels
CF trim pieces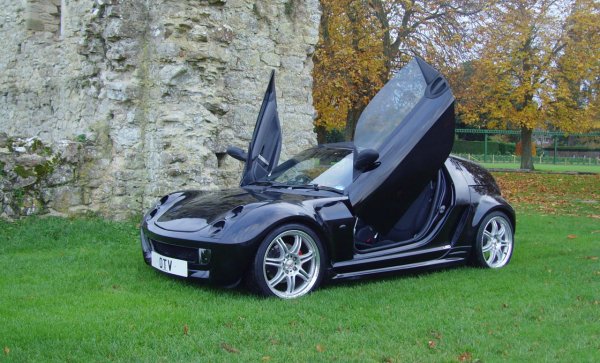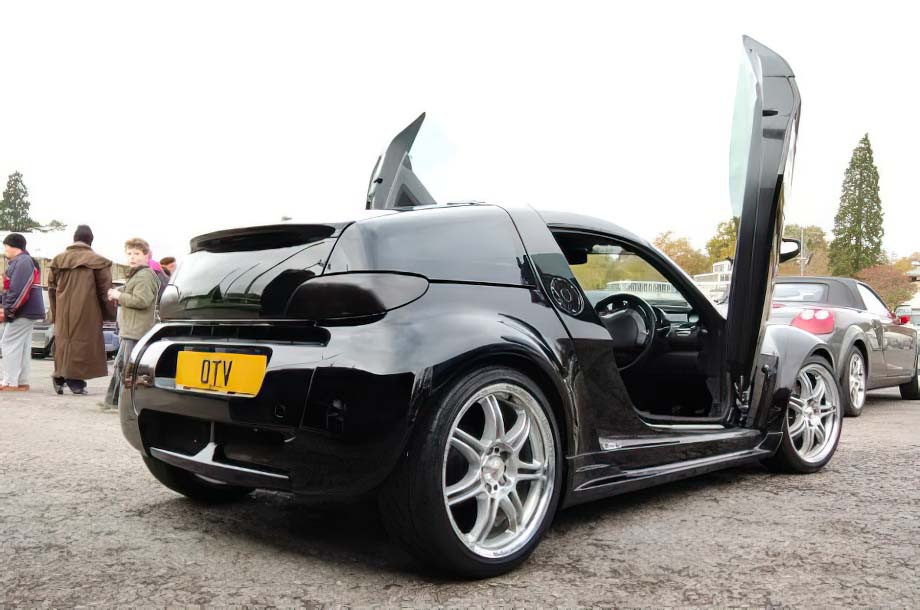 Thanks S2Fluffy for this pic.
OTV Project Car - Forfour Brabus - sold on

Feeling he needed something with more seats (and needing another car after crashing the Roadster a little bit whilst staring at boobs), OTV decided to look at Brabus Forfours. A low mileage version for little money was found fairly locally. It had issues which reflected in the price but both OTV and Evil were happy that they could sort these out.

Car

Standard Brabus Forfour
177bhp from standard
16" Mitsubishi Colt alloys
(original brabus wheels were beyond repair)

Done

Pioneer App Radio 2 replaced the 1 DIN standard stereo
Tune4Performance remap (202bhp)

Plans

Forge silicone hoses
Forge turbo wastegate actuator
Forge Split dump valve
BMW Xenon projector headlights
Custom engine cover