Can A 451 Paddle-Shift Wheel Fit A 450 Or Roadster?

Yes it can although it's not plug and play. It does take a little bit of work to get it to fit.
I did this back in 2011 but didn't put it online because I didn't think anyone would do it.

However, now the time is right for a few good reasons.
The price of the 450/Roadster paddle wheels are ridiculous.
The quality of the old steering angle sensor is shit.
There are more 451's being broken for parts.

But as you can see from the picture below, no ESP warning light, no airbag warning light and the paddles work.

450 Fortwo

This was fitted to a 2003, 700cc fortwo that I owned at the time.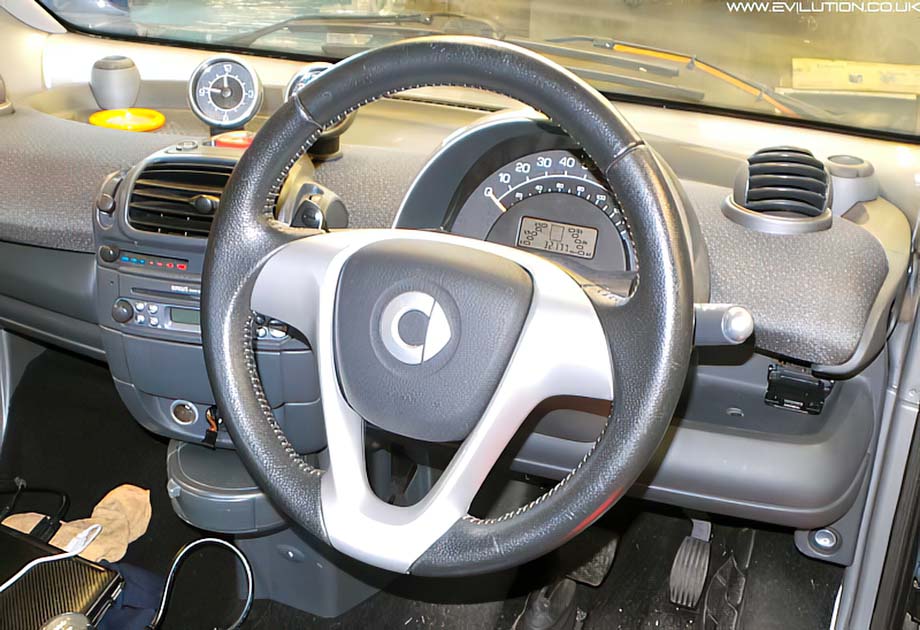 452 Roadster

This was fitted for Dave B to his Roadster by me in 2015.



Thanks to Dave B for this photo.

In 2011 I used an old non paddle wheel just to prove that the steering angle sensor was compatible.
Once the hard part was proven it was just a matter or reverse engineering and adapting the wiring.

What Are The Benefits Of A 451 Wheel?

Apart from the obvious update in design (the paddle wheel looks a lot better than the non
paddle wheel), the main bonus of the 451 steering wheel is that the steering
angle sensor is a lot better than the 450 and Roadster ESP cartridge.

As most of you will know, the old ESP cartridge had a tendency to fail if it was moved with the wheel removed.
No one is quite sure why, it was based on an optical system so it was either a full rotation error or the
cartridge became confused as to the resting position of the optical wheel.

Either way, smart weren't stupid enough to make the same mistake again so the 451 had a mechanical rotation
sensor and a locking device that stopped the cartridge from spinning when the wheel was off of the car.

Paddleshift

If you want the paddleshift to work, the car must have already been TAN coded and the wiring swapped over.
The wiring swap is mentioned in the guide below.

Fitting The 451 Steering Wheel