Mod Description
You car has a VIN code that will tell you about your car
Mod Details
Premium
No
Difficulty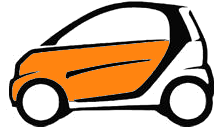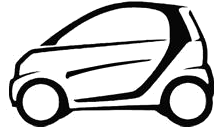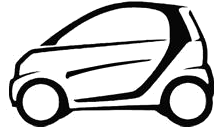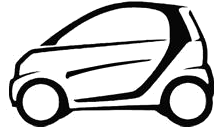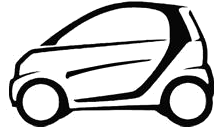 Mod ID
228
Credit
Blackdog/John
For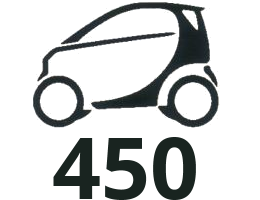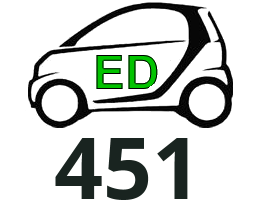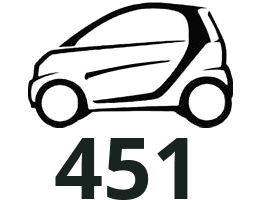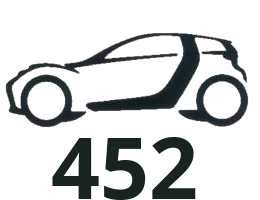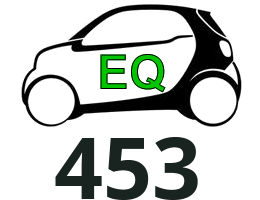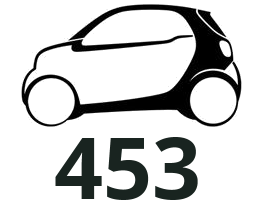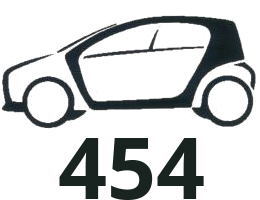 Link
https://www.evilution.co.uk/mod/vehicle-identification-number-vin.htm
Copy to Clipboard
Vehicle Identification Number VIN
The VIN will probably start WME unless you have a very old fortwo.
The USA smarts have a different system.
The 6 digits after that tell you what car you have and the body/engine variant.
WME – Smart Designation
450.3XX – old style fortwo coupe
450.4XX – old style fortwo cabrio
451.3XX – fortwo coupe Mk2
451.4XX – fortwo cabrio Mk2
452.3XX – Roadster coupe
452.4XX – Roadster (notch back)
453.0XX – Forfour Mk2
453.3XX – Fortwo coupe Mk3
453.4XX – Fortwo cabrio Mk3
454.XXX – Forfour Mk1
Some early cars had an alternate VIN code on the body, such as WME01MC01******** but all of these early codes are matched to a proper style of VIN code. Very very early VIN codes started TCC but they are few and far between.
The last 8 numbers are unique to your car. Smart should be able to tell you everything about your car if you give them your VIN. A VIN decode is not something the public can do.
Unusual 453 VIN Code Issue
Some 453s in certain countries had a VIN code starting 451. Smart did this because they were dodgy wankers. It was because the EU had mandated that all new models built after a certain date had to comply with certain regulations, mainly what AC gas had to be used. Smart claimed that the 453 was just a facelift 451 to get around these regulations because it was an existing model. They managed to get away with that for a while but eventually started using the less effective (and more flammable) R1234YF air conditioning gas. Mercedes, amongst a few other German manufacturers were dead set against using this new gas (because it was shit) so they dragged it through the EU courts for as long as they could so they didn't have to comply.
Can The VIN Tell Me Anything Useful?
Depends on what smart you have. There is a site that can cross reference your VIN with
what smart know about your car. It can possibly tell you the following information.
Delivery date,
Car type,
Paint codes,
Engine number,
Transmission number,
Car add-on and specifications.
VIN Code Search
Where Do I Find The VIN?
450
In front of the engine cover on a sticker…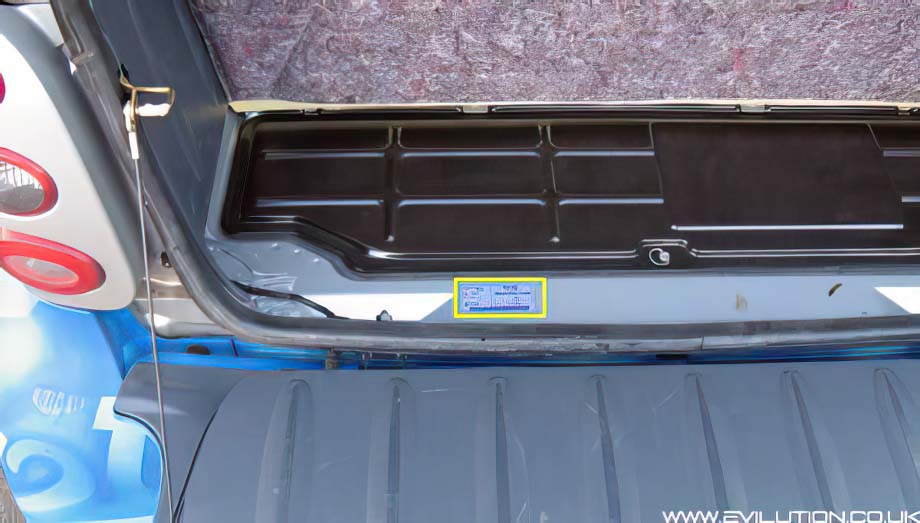 …and under the carpet on the right hand side behind the engine cover.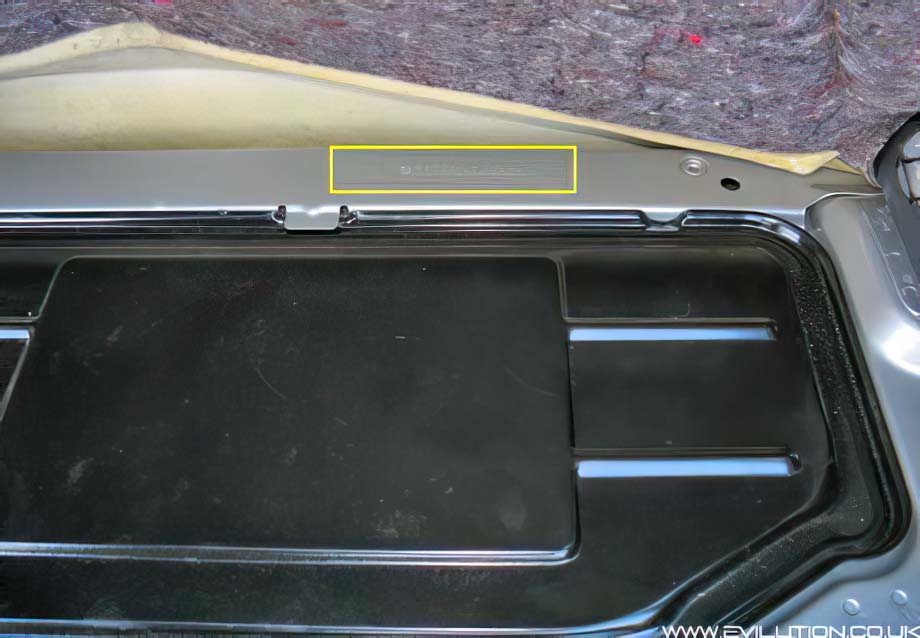 450 fortwo (1999 – 2000)
The VIN is on the edge of the battery box. (thanks to John for the picture).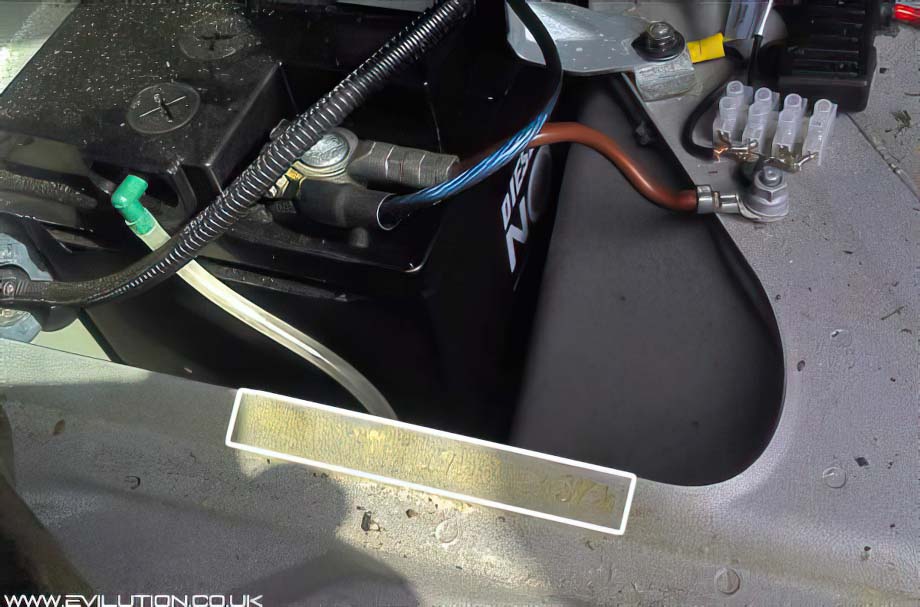 ---
Fortwo 451
In a small window in the lower right hand side of the windscreen…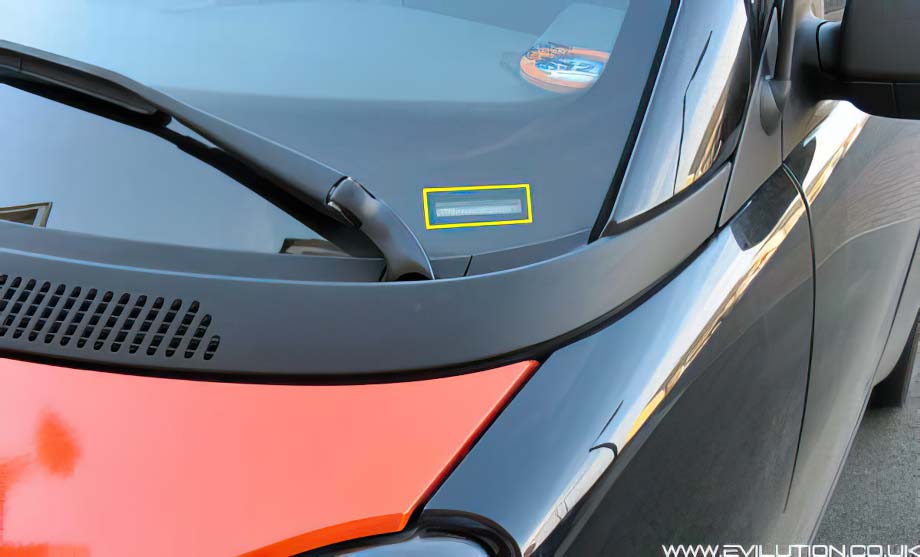 …and on a sticker in the door shut.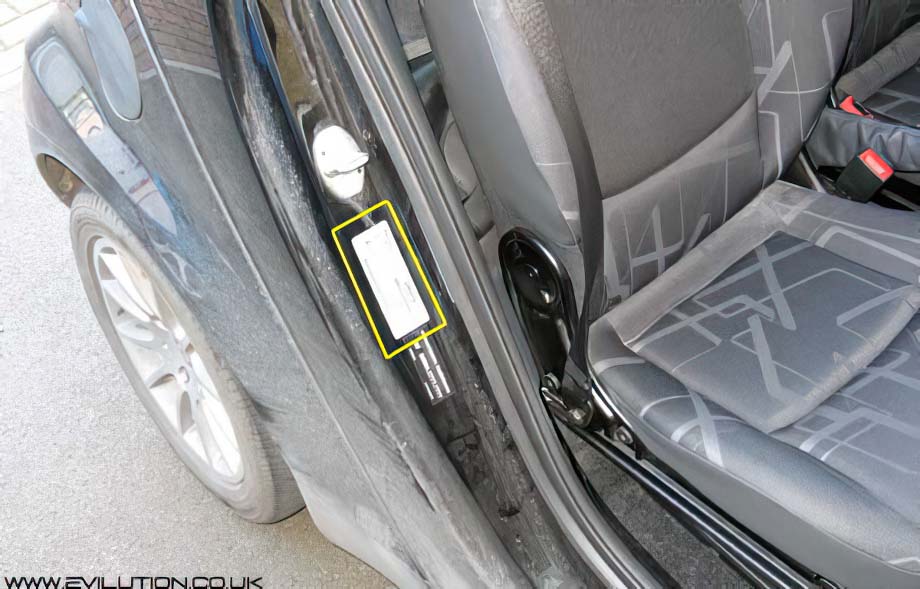 Roadster 452
At the back right hand side of the engine bay aperture…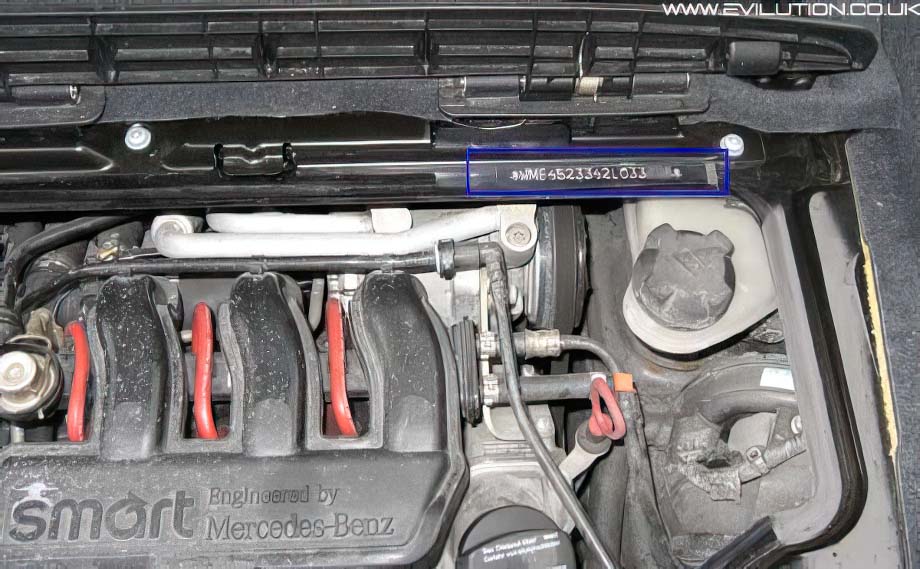 …and on a sticker in the the door shut.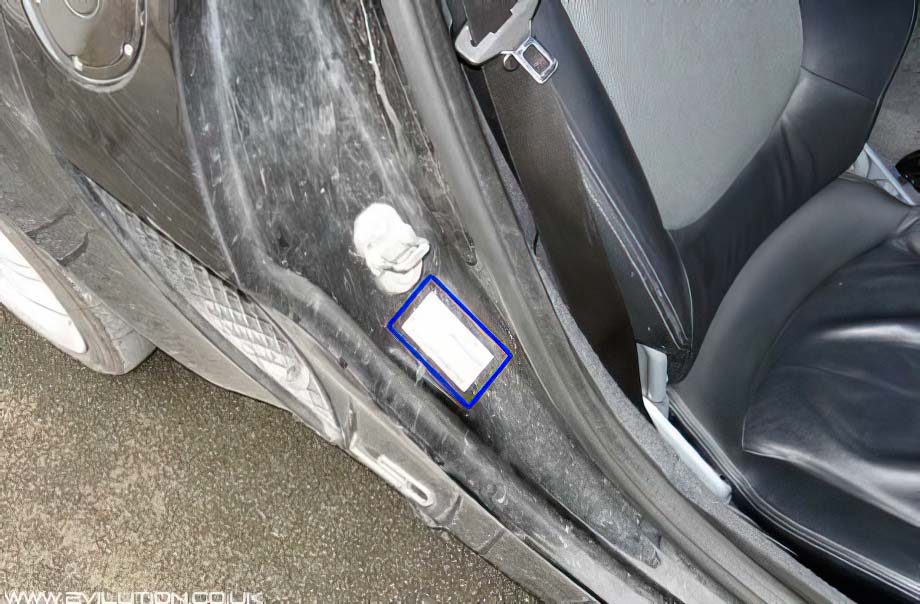 453 Fortwo & Forfour
Look underneath the carpet flap under the front of the right hand seat.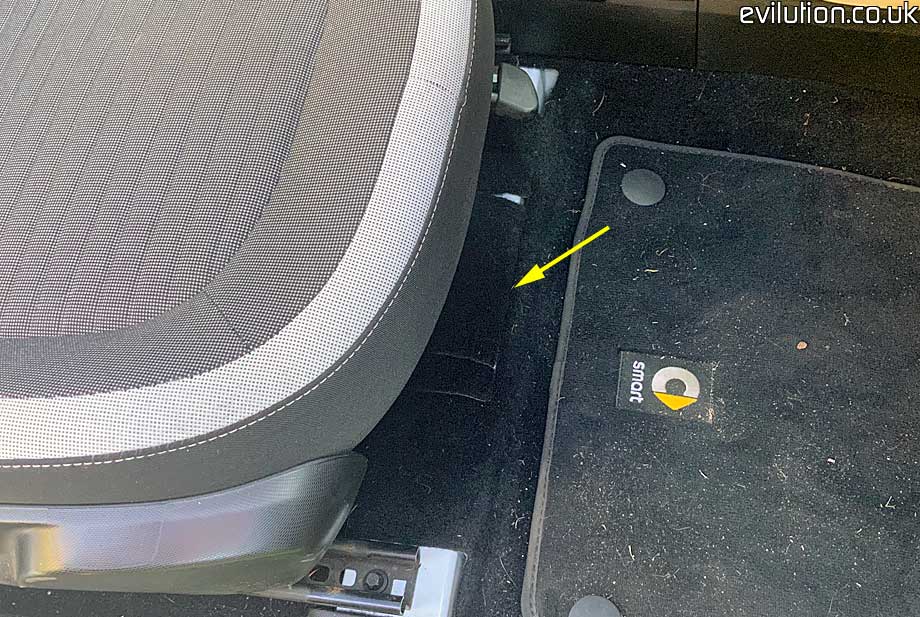 It is stamped into the frame.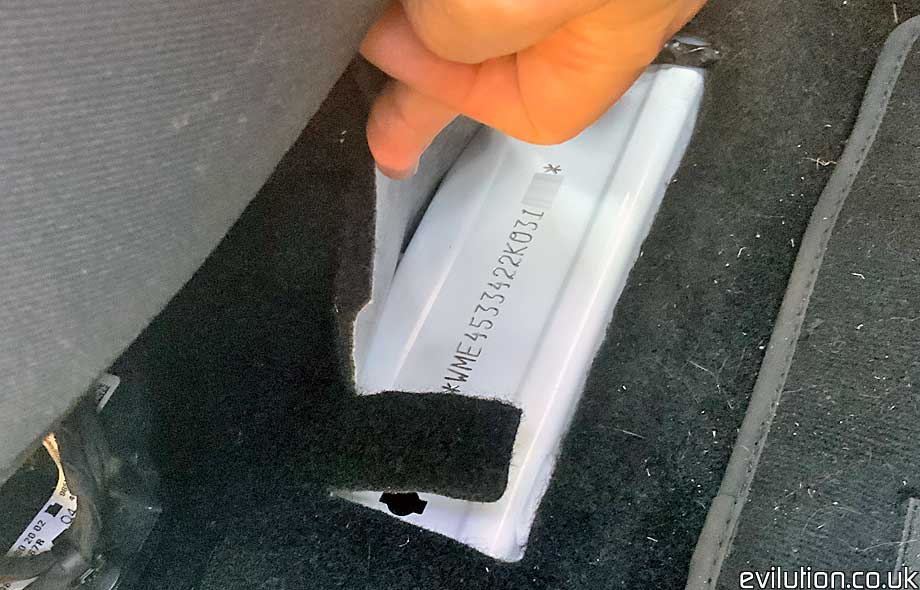 VIN Specific Details
SMART Technical Data
Designations
Vehicle model
Engine code
Engine model
Engine size
Trans. model
Smart Fortwo 450 coupé
smart coupé cdi
450.300
660.940
30kW/41hp EU3
799 cm3
717.409
smart coupé pure cdi
450.301
660.940
30kW/41hp EU3
799 cm3
717.409
smart coupé pulse cdi
450.302
660.940
30kW/41hp EU3
799 cm3
717.409
smart coupé passion cdi
450.303
660.940
30kW/41hp EU3
799 cm3
717.409
smart coupé business cdi
450.306
660.940
30kW/41hp EU3
799 cm3
717.409
smart city-coupé BRABUS
450.314
160.910
51kW/70hp EU3
599 cm3
717.407
smart city-coupé
450.330
160.920
37kW/50hp EU4
698 cm3
717.408
smart coupé pure
450.331
160.910
33kW/45hp EU2/EU3
599 cm3
717.407
smart city-coupé
450.332
160.920
45kW/61hp EU4
698 cm3
717.408
smart city-coupé BRABUS
450.333
160.920
55kW/75hp EU4
698 cm3
717.476
smart city-coupé
450.335
160.910
40kW/55hp EU2/EU3
599 cm3
717.407
smart coupé business pure
450.336
160.910
33kW/45hp EU2/EU3
599 cm3
717.407
smart coupé pure +
450.341
160.910
40kW/55hp EU2/EU3
599 cm3
717.407
smart coupé pulse
450.342
160.910
40kW/55hp EU2/EU3
599 cm3
717.407
smart coupé passion
450.343
160.910
40kW/55hp EU2/EU3
599 cm3
717.407
smart coupé business pulse
450.346
160.910
40kW/55hp EU2/EU3
599 cm3
717.407
smart coupé k-car
450.347
160.910
40kW/55hp EU2/EU3
599 cm3
717.407
smart coupé pulse
450.352
160.910
45kW/61hp EU3
599 cm3
717.407
smart edition 901 creamstyle
450.353
160.910
45kW/61hp EU3
599 cm3
717.407
smart city-coupé pulse
450.354
160.910
40kW/55hp EU2/EU3
599 cm3
717.407
smart city-coupé pulse
450.355
160.910
40kW/55hp EU2/EU3
599 cm3
717.407
smart city-coupé passion
450.356
160.910
40kW/55hp EU2/EU3
599 cm3
717.407
smart city-coupé passion
450.357
160.910
40kW/55hp EU2/EU3
599 cm3
717.407
smart city-coupé business pulse
450.358
160.910
40kW/55hp EU2/EU3
599 cm3
717.407
smart city-coupé business pulse
450.359
160.910
40kW/55hp EU2/EU3
599 cm3
717.407
smart city-coupé pure
450.360
160.910
33kW/45hp EU2/EU3
599 cm3
717.407
smart city-coupé pure
450.361
160.910
33kW/45hp EU2/EU3
599 cm3
717.407
smart city-coupé business pure
450.362
160.910
33kW/45hp EU2/EU3
599 cm3
717.407
smart city-coupé business pure
450.363
160.910
33kW/45hp EU2/EU3
599 cm3
717.407
smart city-coupé cdi
450.364
660.940
30kW/41hp EU3
799 cm3
717.409
smart city-coupé cdi
450.365
660.940
30kW/41hp EU3
799 cm3
717.409
Smart Fortwo 450 cabrio
smart cabrio cdi
450.400
660.940
30kW/41hp EU3
799 cm3
717.409
smart cabrio pure cdi
450.401
660.940
30kW/41hp EU3
799 cm3
717.409
smart cabrio pulse cdi
450.402
660.940
30kW/41hp EU3
799 cm3
717.409
smart cabrio passion cdi
450.403
660.940
30kW/41hp EU3
799 cm3
717.409
smart cabrio BRABUS
450.414
160.910
45kW/61hp EU3
599 cm3
717.407
smart crossblade
450.418
160.910
51kW/70hp EU3
599 cm3
717.407
smart cabrio
450.432
160.920
45kW/61hp EU4
698 cm3
717.408
smart cabrio BRABUS
450.433
160.920
55kW/75hp EU4
698 cm3
717.476
smart cabrio pure
450.441
160.910
40kW/55hp EU2/EU3
599 cm3
717.407
smart cabrio pulse
450.442
160.910
40kW/55hp EU2/EU3
599 cm3
717.407
smart cabrio passion
450.443
160.910
40kW/55hp EU2/EU3
599 cm3
717.407
smart cabrio pulse
450.452
160.910
45kW/61hp EU3
599 cm3
717.407
smart cabrio pulse
450.454
160.910
40kW/55hp EU2/EU3
599 cm3
717.407
smart cabrio pulse
450.455
160.910
40kW/55hp EU2/EU3
599 cm3
717.407
smart cabrio passion
450.456
160.910
40kW/55hp EU2/EU3
599 cm3
717.407
smart cabrio passion
450.457
160.910
40kW/55hp EU2/EU3
599 cm3
717.407
Smart Fortwo 451 coupé
smart coupé cdi
451.300
660.950
33kW/45ps EU4
799 cm3
717.483
smart coupé cdi
451.301
660.950
40kW/54ps EU5
799 cm3
717.483
smart coupé N/A
451.330
132.910
45kW/61ps EU4
999 cm3
717.480
smart coupé N/A
451.331
132.910
52KW/71ps EU4
999 cm3
717.480
smart coupé turbo
451.332
132.930
62kW/84ps EU4/EU5
999 cm3
717.481
smart coupé Brabus
451.333
132.930
72kW/98ps EU4/EU5
999 cm3
717.481
smart coupé MHD
451.334
132.910
45kW/61ps EU5
999 cm3
smart coupé MHD
451.380
132.910
52kW/71ps EU5
999 cm3
smart coupé ED
451.390
780.009
55kW/74hp
0 cm3
smart coupé ED
451.391
780.009
55kW/74hp
0 cm3
smart coupé ED Brabus
451.392
780.009
60kW/80hp
0 cm3
Smart Fortwo 451 cabrio
smart cabrio cdi
451.400
660.950
33kW/45ps EU4
799 cm3
717.483
smart cabrio N/A
451.431
132.910
52kW/71ps EU4
999 cm3
717.480
smart cabrio turbo
451.432
132.930
62KW/84ps EU4/EU5
999 cm3
717.481
smart cabrio Brabus
451.433
132.930
72kW/98ps EU4/EU5
999 cm3
717.481
smart cabrio MHD
451.480
132.910
52kW/71ps EU5
999 cm3
smart cabrio ED
451.490
780.009
55kW/74hp
0 cm3
smart cabrio ED
451.491
780.009
55kW/74hp
0 cm3
smart cabrio ED Brabus
451.492
780.009
60kW/80hp
0 cm3
Smart Roadster
smart roadster-coupé
452.332
160.921
45kW/61hp EU4
698 cm3
717.408
smart roadster-coupé
452.334
160.922
60kW/81hp EU4
698 cm3
717.476
smart roadster-coupé BRABUS
452.337
160.923
74kW/101hp EU4
698 cm3
717.477
smart roadster
452.432
160.921
45kW/61hp EU4
698 cm3
717.408
smart roadster
452.434
160.922
60kW/81hp EU4
698 cm3
717.476
smart roadster BRABUS
452.437
160.923
74kW/101hp EU4
698 cm3
717.477
Smart forfour 454
auto
manual
smart forfour
454.030
134.910
55kW/75hp
1124 cm3
717.470
717.474
smart forfour
454.031
135.950
70kW
1332 cm3
717.472
717.473
smart forfour
454.032
135.950
80kW
1499 cm3
717.472
717.473
smart forfour cdi
454.000
639.939
50kW
717.473
717.475
smart forfour cdi
454.001
639.939
70kW
717.473
717.475
smart forfour
454.033
134.911
47kW
717.470
717.470
smart forfour Brabus
454.034
122.950
130kW
717.478
717.478
Smart Fortwo 453 & Forfour 453
smart Forfour non turbo
453.041
281.920
45kW
999cm3
smart Forfour non turbo
453.042
281.920
52kW
999cm3
smart Forfour non turbo
453.043
281.920
52kW
999cm3
smart Forfour turbo
453.044
281.910
66kW
898cm3
smart Forfour turbo
453.053
281.910
66kW
898cm3
smart Forfour Brabus turbo
453.062
281.910
80kW
898cm3
smart Forfour EV
453.091
780.997
60kW
smart Fortwo non turbo
453.341
281.920
45kW
999cm3
smart Fortwo non turbo
453.342
281.920
52kW
999cm3
smart Fortwo non turbo
453.343
281.920
52kW
999cm3
smart Fortwo turbo
453.344
281.910
66kW
898cm3
smart Fortwo turbo
453.353
281.910
66kW
898cm3
smart Fortwo Brabus turbo
453.362
281.910
80kW
898cm3
smart Fortwo EV
453.391
780.997
60kW
smart Fortwo non turbo
453.442
281.920
52kW
999cm3
smart Fortwo non turbo
453.443
281.920
51kW
999cm3
smart Fortwo turbo
453.444
281.910
66kW
898cm3
smart Fortwo turbo
453.453
281.910
65kW
898cm3
smart Fortwo Brabus turbo
453.462
281.910
80kW
898cm3
smart Fortwo EV
453.491
780.997
60kW